Its been more than a week, i think, since i've posted.
I'll try to do one more than one post a week or more depending on how interesting my life has been lately.
So anywho!
I went to out and picked up seventeen and some make up and my first pair of tights! =DDD
yea, my first pair.
I just had different types of leggings before and i wore them(BIG mistake) but only because i didn't know anything about clothes that look good or not and i barely even looked at the mirror. i guess i was one of those type of nerdy asian kids who would wear flare jeans and hoodies zipped all the way up all the time plus stupid looking running shoes. at least i didnt have glasses or braces, instead i just had shit hair, just messy, tangled, middle parted hair with no shape or style. At least that was all in elementary, if you knew me before and reminded me of this, I'd cover my ears and close my eyes tight and go SHUT UP SHUT UP SHUT UP SHUT UP.

Ahh, me. =DD

Back to leggings, They make my legs looks short, fat, and overall, stubby!
See!




Lol, i made the dressing room messy.




The pics are crappy and it makes me look shorter >:U. hah, i used my phone. But anyway, see how much is the difference and how it cuts off my leg and makes it shorter? And the tights i fitted were footless tights so like, one half of the foot part is cut off. I ended buying brown footed tights and black stirrups! When I'm older, maybe out of highschool, I'll make a resolution that i could only wear pants once a month, but that will probably be when I'm 19 or something. I wanna be more of a tights girl by then!


♥♥♥♥♥♥♥♥♥♥♥♥

While at the mall, i saw these!




It came out last February but the nordstrom nearby didn't really highlight that 'til now. They are DKNY's Smoothies.
(i just love it when people name their product after sugary drinks/sweets/pastries/candy/whatever. I have a feeling to get it like 5 times more =D. Don't you?)
Back to the topic! I like to think of it as short spandex leggings/colorful biker shorts you layer under anything.
And i love how this blog describes is as "Candy Colored ShapeWear!"

It looked nice on the mannequins. They were all brightly, colorfully dressed with short shorts layered on top of the 'colorful biker shorts' I so wanted to take a picture but i didn't bring a camera. It's super nice to see that not only the top can be layered! But so can the bottom!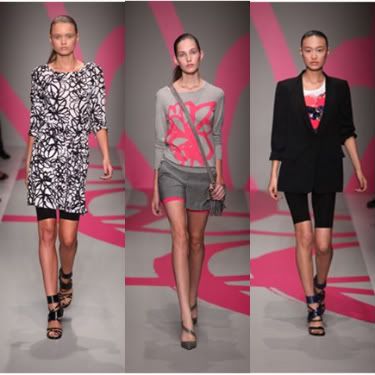 I really REALLY like the 3rd one! Too bad i don't even have a blazer(still on the hunt!). Good thing DKNY put this outfit together, or else I'd only picture a short dress+smoothies or short shorts+smoothies.

The short leggings/biker shorts reminded me of this!




It's from Forever 21. I kinda wanted it for a while. Like put it under a really short skirt and when it would accidentally flip up or something, it would be seen (instead of panties) and it would be oh, so pretty!

Writing all about short biker shorts/leg wear makes me want to get it now!
Don't know where to wear it to, though. Definitely not to school, or maybe i should suck it up and try it and see how it goes? I just feel weird dressing in something different than what everyone else has already seen/wore. Who knows, maybe everyone will start wearing it. Like the time i wore short shorts+ thigh high socks to school and i suddenly kept getting the best compliments any classmate has really ever given to me. You probably seen the short short + thigh high socks before but i've never seen anyone wear it to school/in town so i just tried it and wow, i kinda want to shoot myself now.
i created a monster! A MONSTERRRRRRR