Hey! Allow me to introduce myself. My name is Shaira (pronounced as Shy-ra)
This is my first blog and my first post.
After one full year of going to other people's blog religiously, I've finally decided to come out and comment and make my own blog! yayyyy.
But for those people whose blogs i go to all the time, i just want to tell you that i really appreciate and look up to you guys. Even though you have just started out or have been blogging for many years, I've may have been to you're blog a couple times and i have enjoyed reading what you have typed out about your current obsessions, your life, and your opinions. Even though you don't know it, there's maybe some weirdo out there somewhere in the world behind the computer who won't even comment(lol, an example: me)but anyway, that stranger really Really loves your blog and takes time to read into it and you just don't know that Anon.
So thank you! I can't really put my feelings into words but this is how sort of feel ;)

But anywho
This is me!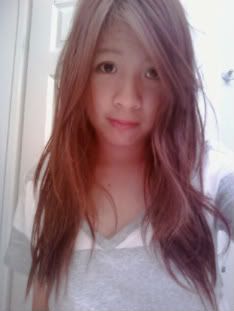 I just thought I'd post this up to see how much I'll change as i continue this blog.
Who knows, maybe I'll dye my hair a color I'd never thought i would and i try something i normally would never try.
A side note!
I dyed my hair for the first time last November! I never thought i would dye my hair brown but those damn japanese magazines really influenced me >_<
Thanks for reading!
And heres a little question:
Why did you start you're blog?
And what did japanese culture/fashion/magazines made you do that you never thought of doing?